In connection with the development aid funded rehabilitation project of Kidatu power plant in Tanzania, co-finances by Sida & NORAD, many Sweeds and Norwegians have regularly visited Kidatu since the early 19'ties and almost permanently since the summer of 1999. During this period a good relation arised between the local and foreign population and it was therefore a natural thing to leave behind in 2003 when the project was almost compleeted.


Emmaculata.

The whole began the day the first Norwegianm, Harald Aspeholen, arrived Kidatu. He had not been long at his house before he heard a soft knock on his door and became aware of two shy young girls. They giggled and delivered a smaal tiny handwritten note of papir and disappared again just as fast as they appreared. The handwritten note was written in poor English and was a polite request for a job. One of them was named Emmaculata, and was educated mechanical technican. Since there was no work for a girl in Tanzania she had to apply for occational jobs to earn for her living. She and her girl friend Jovita got the job by Harald and it soon proved to be a good choice. The girls was very handy and reliable , dyktige, eager, accurate and at least honnest. Jovita found another job, but Emma worked 5 days a week by Harald, and during the evenings she run a small shop in her parents home. During the week-ends she took the bucysle and traveld across the Kilombero flats to dig her two small farms at about 40 decar. She farmed both rice, mais & sugar, but this entailed much work and the income was scarceand fluctuated with the crops and prices and proved less profitable.

During the 5 years Emma worked for Harald, she managed to construct her own lithle home for the salary she got. She bought a lithle flat upon a hiltop near to the village. She did also build a small annex for rent. The income was ment for education for her lithle daughter Happy. The income, however, was scarse and unreliable, and during the first years she only rented 1 room.

In 2001 Emma lost both her parents and thereby she got the responsibility for her younger couzins. Her elder brother had nothing to contribute with. When Emma moved up to the new house the problems with mlaria decreased compared to the living aside of the wetlands.

In November 2002 Einar & Else Karine visited Kidatu again when Happy was very iill and it was uncertain if she would survive. Emma took Happy to a doctor who detected the illness to be malaria and tyfus. She got a resepe , but these were very expencive and Emma could hardly afford them. Happy beame, however, even worce and Emma had to use all her cash reserves to buy medicines. After several days Happy did not show any sign of improvements and it was a question of life or death for her. Else did then call the Nordic clinic in Dar es Salaam who informed that Happy had got too strongmedicines and indicated that she was medicine intocisated. Else then paid for hospital costs and after reducing the medicines to 1/4 Happy rapidly improved, and after some weeks she was fresh abd healthy again.

Orphan street children.

During the yeas at Kidatu several shopping trips were made to the village of Ruaha. It was impossible to disregards all the street children that to a large extent are orphants. They are in all ages ranging from grown ups down to 3-4 years. Since they do not have a family they have tomanage on their own. About 75 % of these children are girls.

There were no public aid program or organisation in Tanzania to care for them and occational events decides if they grow up or not. When the huge loca sugar plantation was handed over to the South-Afrikans in 2000, more than half the vilage population lost their jobs. This has entailed a widespread powerty among the local population and everybody is forced to care for themselves. Then it is not easy to be a lithle orphant child on3-4 years, left to himself. These small children have to try to find some left over food to survive from day to day. They have no place to stay the night and are forced to sleep under open sky highly exposed to malaria mosquito and other insects.

A home for orphants.

During the November visit 2002 we discussed with Emma if she could consider operating an orphanage. The planen was to utilise her anex as orphanage and we should try to arrange for the financing.Emma should be responsible for the daliy driften operation, such as housing, food and cloths. In addition all the children should go to school. They shall also learn proper hygine through daily washing, cleane cloths, etc. They will go to the local school and Emma shall teach them ethitks, moral and human values and behaviour. Gradually she will also teach them how to work and how to manage on their own after reaching 17 years.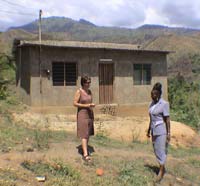 Else Karine & Emmaculata outside Emmas house

Harald Aspeholen

Emmaculata

The view from the house